The goal of therapy is to promote insight and nurture change within an individual by exploring and resolving sources of dissatisfaction and conflict within their lives and their relationships so that an improved quality of life can be attained. Through individual, marriage/couple, teen, or family therapy, I provide support to clients that are struggling with a wide range of emotional and behavioral issues such as:

Attaining a better understanding of yourself, your goals and values
Developing skills for improving your relationships
Finding resolution to issues/concerns that led you to seek therapy
Learning new ways to cope with stress and anxiety
Managing anger, grief, depression or other emotional pressures
Improving communication and listening skills
Changing old behavior patterns and developing new ones
Discovering new ways to solve problems in your family or marriage
Improving your self-esteem and boosting self-confidence
Learning ways to communicate with your child/teenager more effectively
Within a safe and supportive environment, I offer a personalized approach tailored to your individual needs to help you attain your goals. of personal growth, changing behaviors/thought processes, healing emotional wounds and conflicted relationships, or recovering from past traumas.
---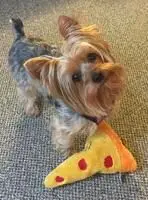 Meet "Fronz" the Yorkie (an 8 lb. bundle of therapeutic unconditional love)

Did you know that the founder of psychoanalysis, Sigmund Freud (1856 - 1939), was known to have his dogs present during client sessions? Stay tuned for more information on the psychological benefits that Fronz brings to the therapy room.